"The Taystee Lab Building is transformative. It completely revitalizes the growing Manhattanville Factory District bridging Columbia University and City College with the world-famous 125th Street Arts and Culture Corridor."
Jerry Salama & Scott Metzner
Janus Property Company
Welcome to the neighborhood!
Situated on New York's beautiful Hudson River, West Harlem is a neighborhood full of energy, culture and charm. It's a short walk or bike ride on the Hudson River Greenway to the Taystee Lab Building. In a few blocks, you can stroll through Riverside Park, visit world-class educational institutions or visit the legendary Apollo Theater.
Connectivity/ Transportation
Just to the east is the 125th Street A, B, C and D subway lines. The A and D express trains are one stop to Midtown. Just west is the Broadway #1 subway line, serving the entire west side of Manhattan. The Taystee Lab Building is also easy to reach by bus, as many major routes converge at 125th Street and two-way Amsterdam Avenue. The West Side Highway and Hudson River Greenway bike path are two avenues just to the west. Bike commuters can enjoy the convenience of an indoor bike storage room.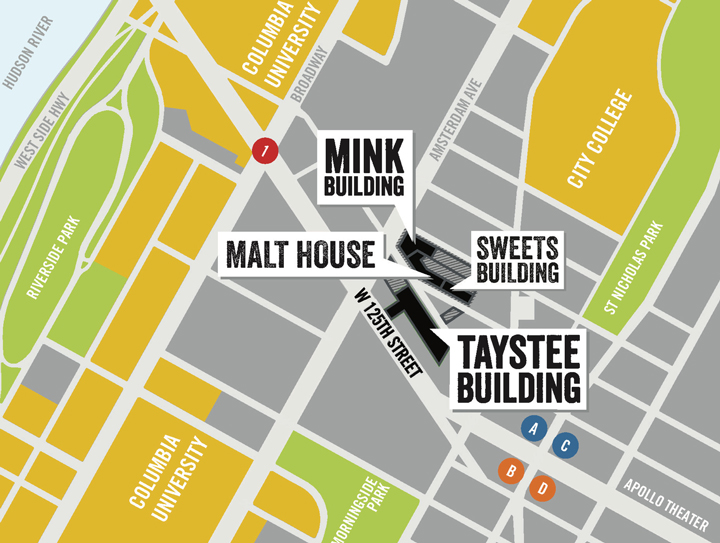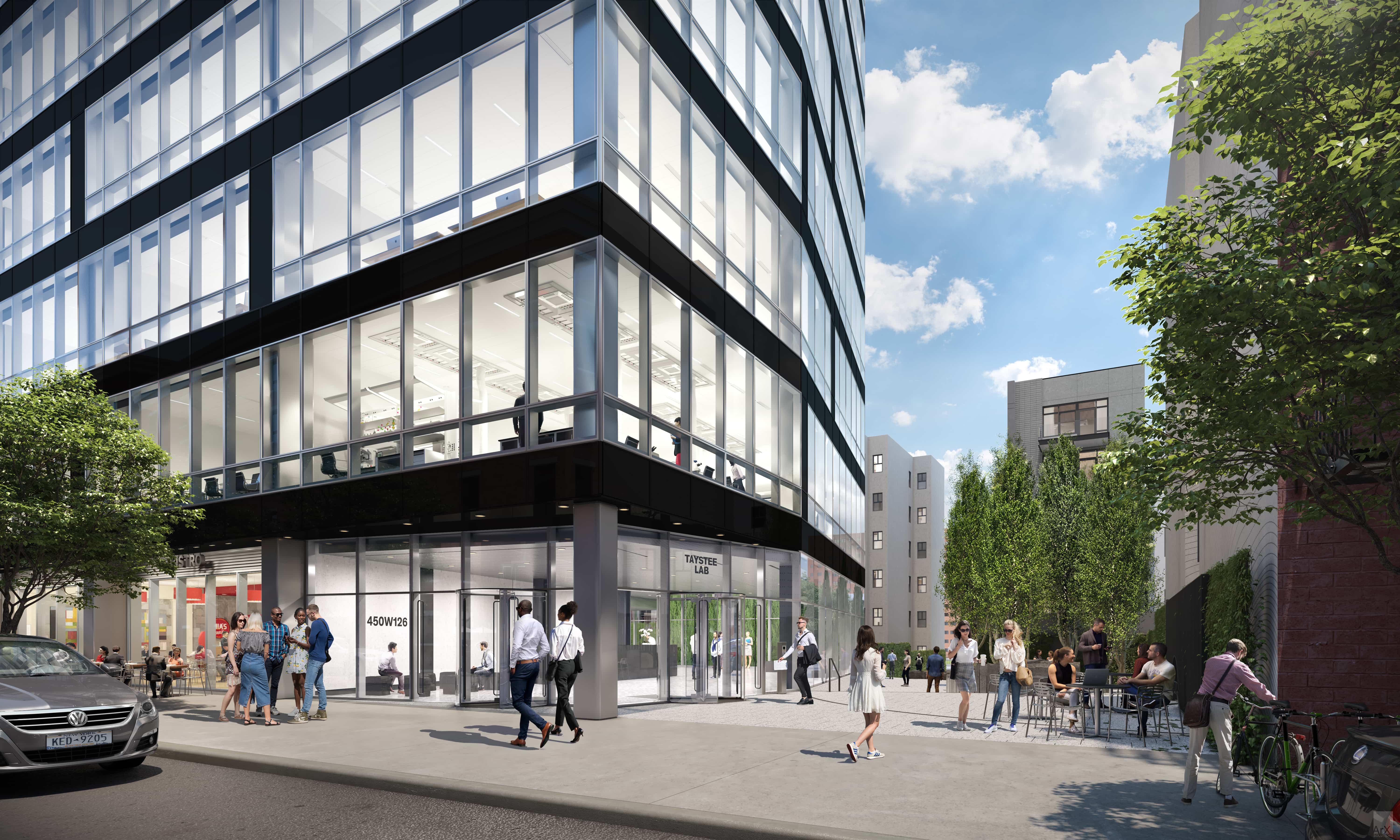 Manhattanville Factory District
From the mid-19th to early-20th century, the historic village of Manhattanville was an energetic industrial neighborhood, bursting with breweries and factories. One hundred years later, the Manhattanville Factory District is once again becoming one of the most exciting places in New York.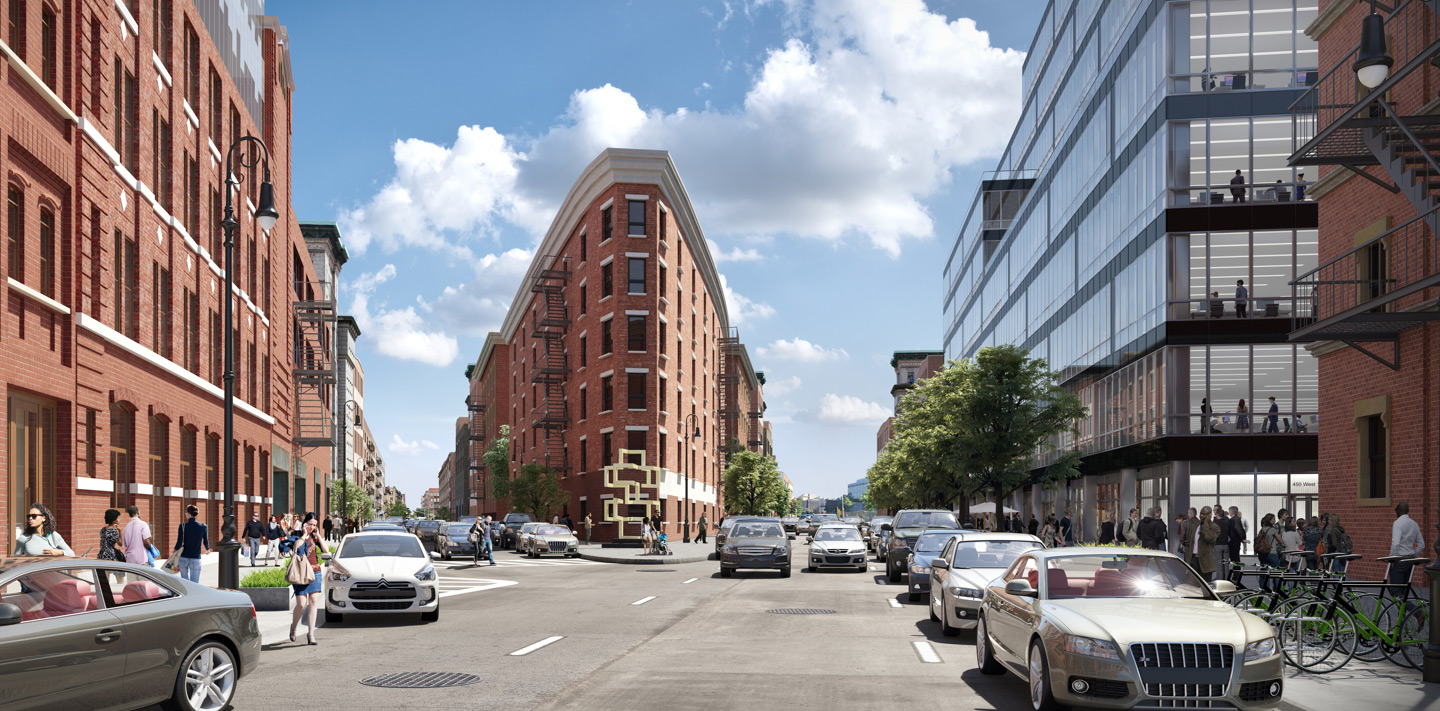 The District delivers on a distinct national and city-wide need for life science and tech space while creating a vibrant business district connected to the neighborhood's industrial history.
SOMETHING TAYSTEE
Design matters to Janus, and at the Taystee Lab Building, every design detail has been considered. The award-winning architectural firm, LevenBetts, has created an unequivocally modern and efficient building. The high ceilings and floor-to-ceiling glass provide all tenant spaces with abundant natural light, creating warm, inviting and productive work spaces.
Class A
350,000 rsf, new construction,
LEED-certified, lab ready
Life Science Infrastructure (BR+A)
Base design includes high capacity power, high velocity ducts, acid waste neutralization/vent riser systems, and designated locations for tenant emergency generators
Economic Incentives
REAP business income tax credits, no commercial occupancy tax, energy and real estate tax benefits
Outdoor Spaces/Terrace
Nearly 20,000 rsf of outdoor space comprised of terraces on garden, 2, 6, 8, 10 and 11th floors and almost 3,600 rsf of courtyard space
Smart Structural Design
14' + floor-to-floor heights, 30' column spacing, highly efficient floor plates and 100 pounds psf capacity
Retail Space
Almost 20,000 rsf of restaurant and retail space available, complete with black iron exhaust ducts for commercial kitchens
TEAM
The Taystee Lab Building was developed as a partnership between the Janus Property Company and J.P. Morgan Asset Management. The expert life science construction manager Lendlease is building the project with MEP infrastructure designed by BR+A Consulting Engineers.
Lendlease has deep institutional life science expertise as evident by projects such as the Columbia University Jerome L. Greene Science Center, Icahn School of Medicine and AstraZeneca Pharmaceuticals Research Labs.
BR+A designed and oversaw construction of MEP systems for over 150 life science, lab and research facilities, including Columbia University, Harvard University, AstraZeneca and Novartis.