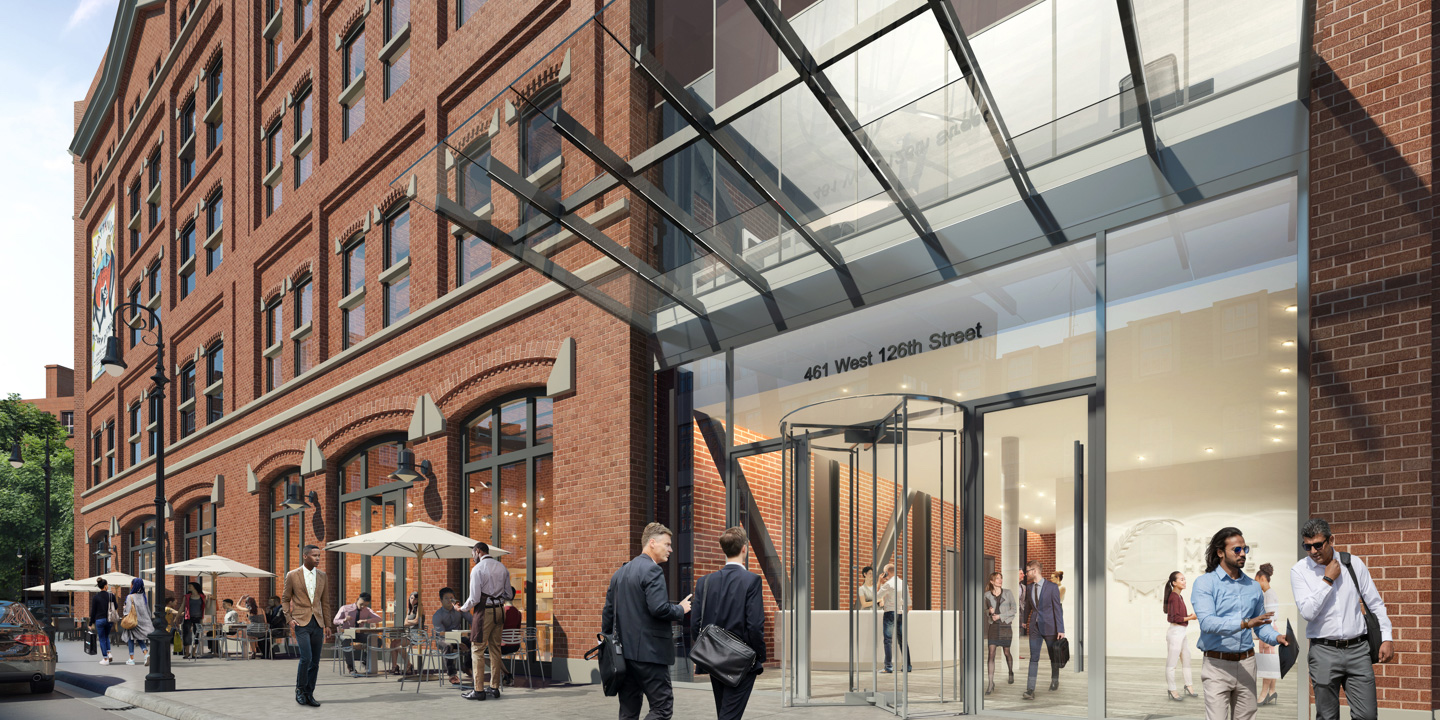 The Taystee Lab Building is being developed by the Janus Property Company.
Janus is proud of its long-term track record of success, deep local involvement and support, and proven commitment to quality and value.
Development team
CREATIVITY. INTEGRITY. SUCCESS. Three words that explain why the Janus Property Company has become a recognized leader in the transformation of New York City's obsolete buildings and underutilized land areas into dynamic structures and vibrant neighborhoods. The Janus Property Company is a long-term developer, owner and manager of commercial, mixed-use and residential properties in New York City with a primary focus on the creative redevelopment of properties in East, Central and West Harlem. Founded in 1989, Janus has offices in the Manhattanville Factory District. Janus has consistently undertaken challenging community development projects, creating enduring value for its tenants, partners, lenders and the greater New York City community. It specializes in understanding the numerous complex issues involved in developing and managing real property in New York City. This has resulted in an impressive portfolio ranging from the extensive rehabilitation and new construction of market rate and affordable rental and condominium housing to mixed-use projects and large-scale commercial buildings.
Scott Metzner founded Janus in 1989. He was one of the earliest developers involved in Harlem's current rebirth, matching for-profit development with public policy and community development initiatives and goals. Prior to his New York projects, he was active in national real estate markets and international capital markets through leadership positions at Eastdil Realty, Roseland Property Company and Daiwa Securities America.
Jerry Salama has been a Principal of Janus for more than 20 years. Previously, he was Deputy Commissioner of the New York City Department of Housing Preservation and Development, Acting General Manager of the New York City Housing Authority and Counsel to the Deputy Mayor of New York for Finance and Economic Development. Prior to public service, he was a real estate attorney with Paul, Weiss, Rifkind, Wharton & Garrison.
BR+A CONSULTING ENGINEERS provides state-of-the-art integrated and coordinated mechanical, electrical, plumbing and fire protection consulting engineering, low-voltage/telecommunications and health care design and innovative proton therapy center design.
DESIGNED AND OVERSAW CONSTRUCTION OF MEP SYSTEMS FOR OVER 150 LIFE SCIENCE, LAB AND RESEARCH FACILITIES including academic research and medical centers for Harvard, MIT, Rice, Duke, George Mason, Columbia, Cornell, Penn State, Colgate, Pace, New York, Stanford, Tufts, Syracuse, Carnegie-Mellon and Rockefeller Universities as well as the Universities of Pennsylvania, Virginia, North Carolina, Michigan and California (San Diego, Berkeley, LA) as well as for private biomedical, technology and pharmaceutical companies including AstraZeneca, Novartis, Lexigen, Siemens, IBM, Hewlett Packard and Genzyme.
J.P. MORGAN GLOBAL ALTERNATIVES is the alternative investment arm of J.P. Morgan Asset Management. With more than $135 billion in assets under management and over 800 professionals (as of September 30, 2018), they offer strategies across the alternative investment spectrum including real estate, private equity and credit, infrastructure, transportation, liquid alternatives, and hedge funds. Operating from 23 offices throughout the Americas, Europe and Asia Pacific, their independent alternative investment engines combine specialist knowledge and singular focus with the global reach, vast resources and powerful infrastructure of J.P. Morgan to help meet each client's specific objectives.
THE JANUS PROPERTY COMPANY
Developer
J.P. MORGAN ASSET MANAGEMENT
Partner
LENDLEASE
Construction Manager
LEVENBETTS
Design Architect
SLCE ARCHITECTS
Executive Architect
BR+A CONSULTING ENGINEERS
MEP Engineers
DE NARDIS ENGINEERING
Structural Engineer
TERRAIN WORK
Landscape Architect
CBRE
Leasing
THE CITY OF NEW YORK
New York City Economic Development Corporation
THE STATE OF NEW YORK
The New York State Empire State
Development Corporation
MANHATTAN COMMUNITY BOARD #9